Hill House Community Centre
Hill House St Helier, formerly known as St Helier District Community Association, is a busy community centre that brings local people together to make their communities more interesting, healthy, safe and a welcoming place to live. There are lots of events and activities that take place at Hill House throughout the year.
For more information about Hill House, please visit our website
Community Garden
Calling all gardening enthusiasts and those longing to nurture their green thumbs! We would like to invite you to Hill House Garden Club, a vibrant and volunteer-led project that offers the perfect space for gardening enthusiasts without their own garden.
At Hill House, we believe in the transformative power of gardening. It's not just about cultivating beautiful plants; it's about nurturing our physical and mental well-being, fostering connections with others, and creating a flourishing community right here in our neighbourhood.
WHEN: Every Friday
TIME: From 9am
WHERE: Hill House, Bishopsford Road, Carshalton, SM4 6BL
Email: Richard@communityactionsutton.org.uk for directions or further information
Sutton Men in Sheds
Sutton Men in Sheds is a positive idea, space, project, program, opportunity, support group for men from all backgrounds. We aim to offer the chance to engage in meaningful conversations, offer support around mental health and social isolation. We are piloting this idea from Hill House St Helier and hope we can make our community a better place for all through this project.
For more information email:
meninsheds@communityactionsutton.org.uk or follow our Facebook Sutton Men in Sheds
Creative Writing Session for Men

We are pleased to have received funding from Sutton Council to deliver 8 creative writing sessions specially for men, the sessions will be held on alternate Thursdays throughout the months of April to July 2023. The aim of these sessions is to help men build social connections and lasting friendships plus sharing skills and knowledge. By the end of the project we are hoping more men feel comfortable and are able to express themselves through writing and share what makes them happy.

If you work with anyone that you think would be interested please forward them this flyer, no booking necessary.

For more information please contact razia@communityactionsutton.org.uk or email meninsheds@communityactionsutton.org.uk
Room hire at Hill House
We provide office accommodation to Voluntary, Community, Faith and Social Enterprise (VCFSE) organisations in our main building. There are three spaces available for hire at Hill House with free car parking.
There is a large hall, a training room and a kitchen which are suitable for a range of activities. We provide space to build the engagement, confidence and active participation of groups.
The hall can also be hired for;
Community Events
Parties
Weddings
Christenings
Meetings
For more information call: 02086483917 or visit our website
or email us at: hillhouse@communityactionsutton.org.uk
Active Me
Following the success of the Active Me exercise sessions held in partnership with Sutton Housing Partnership in the summer of 2022, we are pleased to be working together again to run more sessions from July to September 2023.
Inspiring active & healthy lifestyles to support & improve physical, mental & social wellbeing.
If residents sign up and attend all sessions, they are able to keep some of the exercise equipment.
For more information please contact Debbie Parker on 07932112231 or email debbieparker2020@outlook.com
Community Food Shop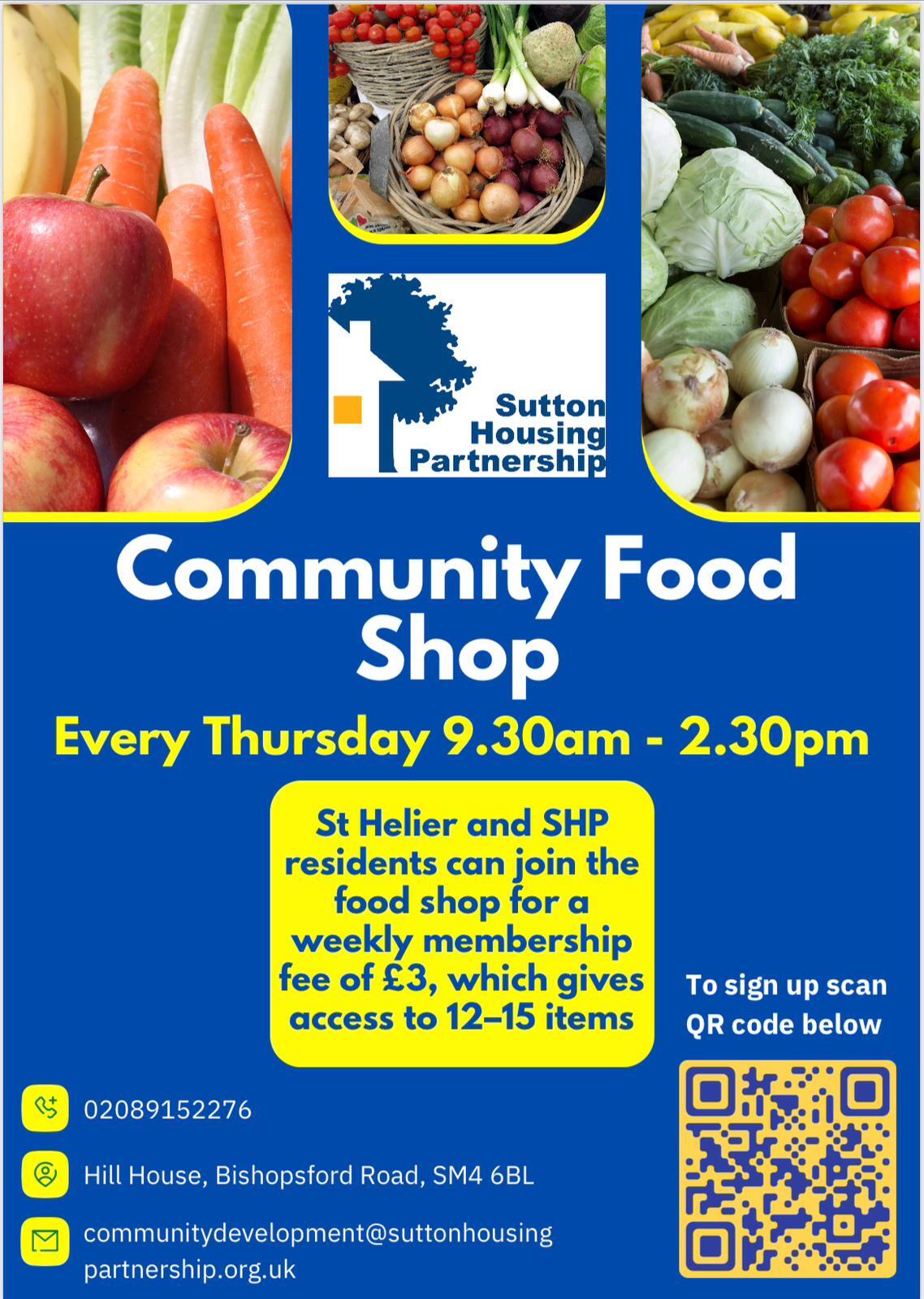 The St Helier Community Food Shop is open every Thursday from 9.30am to 2.30pm for St Helier and Sutton Housing Partnership residents.
St Helier residents can join the food shop for a weekly membership fee of £3, which gives access to 12–15 food items a week (worth approximately £15). There will be a mix of fresh and non-perishable food which will vary from week to week.
Membership is for six months and can be cancelled at any time.
Members are required to engage with services offering advice and support on education, training, employment and health and wellbeing.
Click here for more information about the Community Food Shop